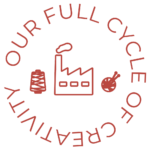 ---
A VERTICAL PRODUCTION PHILOSOPHY.
ECAFIL BEST plays a strategic role in the global fancy yarns spinning market and stands out for its vertically integrated production philosophy, from the fiber to the finished product.
The group includes the production plant of the company FILECA Industry, based in Romania, where all the phases of the creativity cycle are completed, from spinning to printing. The finished product is then marketed at the ECAFIL BEST headquarter in Calenzano (FI). The two main product lines, knitwear and hand knitting, are targeted to customers specialized in the industrial production of knitted garments, and to handknit brands and consumers. While viscose, silks and fine cottons dominate in the summer collections, in the winter, natural fibers such as mohair, alpaca and wool stand out, presented both pure and blended, in classic and patterned structures.
Innovation at the service of fashion.
---
To keep up with the market trends, ECAFIL BEST has invested in state-of-the-art production equipment aimed at creating exclusive printing and finishing effects. In particular, the items following the latest fashion trends, best express the continuous technological research in the field of spinning and chromatic effects. One of the most remarkable results over the years it has been the patented ARYA ® technology, consisting in treating the fibers before spinning them with a jet of air that makes them open and "fluffy", as if they were weight less.

Do you need to find out more?